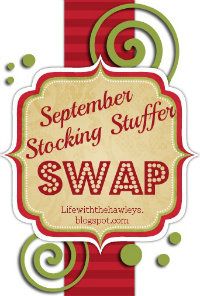 I am so excited to be revealing my Stocking Stuffer SWAP. I wanted to be creative yet stay in budget for my swapper. My swapper and I communicated via email and on each others blog.
DID we do good??? Swap 9/28/12
Here is my swapper..... Shatzi over at
Love and Laundry
- go give her a visit.
OMG Shatzi is amazing!!!
My stocking Stuffers ARE just so incredible.
Here is all of my items!! From a holiday craft magazine to a handwritten note I loved every single item.
OKAY super scariness here: Dark Chocolate with Sea Salt has become my FAVORITE chocolate. SCORE
As for nail polish - hello - addicted and I can not wait to try this - MAGNETIC ATTRACTION it will make designs with the attached magnetic.
Then cupcake wrappers - I love to bake and even more so for fall/winter!!!
Last but not least - a great necklace and earrings set.
A new bracelet [loving accessories]
AND something I am so excited about - her homemade soup!!!!! WHAT really????
Well I want to thank Shatzi for being an amazing swap partner and here is to hoping she enjoyed what I sent her as well.