Today I am linking up with two wonderful blogs!!
My faithful So What Wednesdays with Shannon at L.A.I.D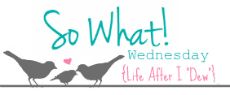 and my newest fav What I Wore Wednesday with Lindsey at The Pleated Poppy
SO I am dancing a jig, smiling and SO HAPPY that it is Wednesday because I have HAD enough So What's this week.
- So What that I spend over 2.5 hours at
Urgent Care
yesterday - but I am happy I went sooner then later.
- So What that I COULD not sleep last night because I was restless but extremely tired and my hubby already started snoring. Argh!!!
- So What that I am over the top excited about a new idea and possible giveaway with my bested virtual blog friend turned into daily chatter Lindsay over at
From Nanny to Family
!! Keep a look out!
- So What that I am looking forward to our 3 day weekend but not looking forward to it being jam packed.
- So What that I am in ALL PLAN mode for our babies party only a month away and the list is too long of what needs to be done. Carnival theme - so games (to build), prizes to get, decorations, food, presents, tables and chairs - and umm I might have invited 90+ people - I shocked my hubby and said that some might not come AND most are family that will come. YIKES
- So What that I hired a photo booth guy and a face-painting gal!! OH yeah!!
- So What we already have two vacations planned and booked for 2013! Suber excited about that!
- SO What I got in my nail polishes from my polish swap and can't wait to paint my nails - thinking Thursday because the reveal is Friday! Perfect timing!
Even with 3 hours of sleep I still wanted to look girlie and cute - BUT the eyes give me a way I think.