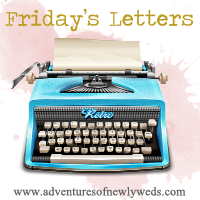 Trying a new link-up!
Dear momFITtingitallin blog, looking over my posts I just feel so happy for doing this for myself. To have something that I put a lot of time and energy in and I appreciate every moment of it.
Dear BLOG followers of mine, thank you for reading, thank you for your advice, thank you for your comments and thank you for a few that have crossed over to a budding friendship!
Dear Friday - thank you for getting here very quickly and opening our family vacation starting tomorrow.
Dear Hubby - thank you for taking great care of our babies while I was gone to
Hotlanta work trip.
Dear FAT - I would really appreciate it if you disappeared and NEVER came back.
Dear DVR, please do not crash while we are gone for vacation because I am planning an entire weekend dedicated to just you!
Dear budget - thank you for standing firm!
Dear Groupon - thank you for the amazing idea for my birthday - now I am set. Cooking 101 for me and my hubby - romantic, sweet and just us!